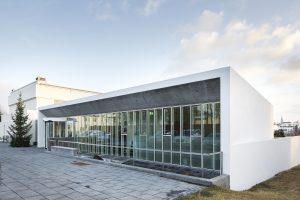 A new addition and outdoor swimming pool has been opened at the Reykjavik Swimming Hall.. VA Architects was awarded first prize in an open architectural competition and was commissioned for the design and design management og the project. .
The Reykjavik Swimming Hall on Baronsstigur is one of the best known buildings in Reykjavik, and that which many consider the best example of the work of, Gudjon Samuelsson.
The addition is a two-story building along Baronsstigur, and a lower building along the southern site boundary. The lower level along Baronsstigur is subterrain..
The main entrance is in a connecting structure . These building form a protected south-facing outdoor area. . The total area is approx. 1.000 m². A utilities area in the basement is an additional 350 m². The pool area is 682 m². The site is 3.484 m². The outdoor pool area includes 25 meter four-lane pool and a sauna, two hot tubs, a jacuzzi and a wading pool. .
The extension the The Reykjavik Swimming pool will be the first project built by Reykjavik City to recieve a BREEAM certificate of Very Good.